Monday September 27th

A special one off Monday night Cushy, featuring Woodbine an English three piece whose eponymous debut album out on October 11th on Domino, delivers just what you might expect from a label defined by the quality of it's output. Woodbine are exceptional not just for the beauty and subtlety of their songs and the allure of their sparse lazy grooves, but among a roster of the best imported songwriters and bands today (Will Oldham, Smog, Pavement, Plush and Elliott Smith), they hold their own.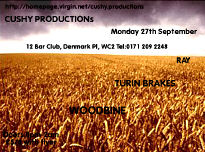 Turin Brakes played a few weeks ago at the club and made quite an impression with the freshness and intensity of their performance. They manage to not so much re-invent the sound of two guys playing acoustic guitars and singing great harmonies, as rejuvenate it. Their debut 'the door' EP, out now on Anvil Records, bears testament to that.
Ray is the band surrounding the songs of brothers' Nev and Mark Bradford. Tonight they will be a four, crafting atmospheric pop with shimmering guitars, violin, cello and a voice landing spectacularly on the fault line between Nick Drake and David Bowie.


Bookings 0171 2092248 Doors 8pm £5 or £4 with flyer