CUSHY PRODUCTIONs at the 12 BAR CLUB
Denmark Place, London WC2

Thursday, 10th August 2000

RHATIGAN
MICHAEL J SHEEHY
MADAM
THE METIC
MATT BACKER
If it doesn't rain it pours. I was starting to think that I would be the last person left in London this August, it seemed like everyone would be out of town. I even thought I would cancel Cushy this month and have a holiday myself.
But when the opportunity to hear MICHAEL J SHEEHY sing (by the way he is the best male singer in England today) and play songs from his excellent solo debut album 'Sweet Blue Gene' (Beggars Banquet) before he heads off for some Autumn touring, I knew what I had to do.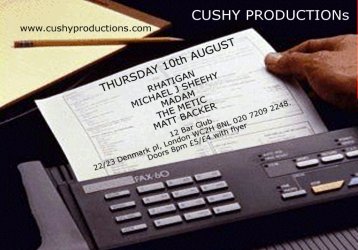 Regulars will have seen RHATIGAN in many and various incarnations, but the current line up with trombone and trumpet is my favourite, the songs and arrangements really come into their own.
The early part of the night will feature shorter sets from 3 very different but very talented songwriters. Suki Smith knows how to write and perform dark, sexy bittersweet songs about you and yours, and every one really. Her band, MADAM played for us in March this year and I was hooked. Tonight her already spacious skeletal sound will be even more pared down with vocal, guitar and bass.
THE METIC is Robert Rotifer, the lead singer and songwriter in London based band Metic. A 'metic' is, (or so I'm told) 'an alien or foreigner' and I suppose 'Austrian', certainly in terms of great guitar pop song writing, is a fairly alien idea. Remember Falco? The Metic has put me straight on that. His writng combines the subtlety and intensity of Robert Pollard (Guided by voices) with a European alt/pop/folk twist. I'm looking forward to seeing him solo.
Virtuoso guitarist MATT BACKER, has threatened to compile a record of his songs ever since his seminal college band 'The dogs breakfast' went the way of far too many and not too few such out fits. Warm hearted, intelligent, tender, tragic and beautifully played songs are the result.