Hi
What a great idea doing a gig on your Birthday is, lots of pals turn up and bring presents. Oh and you get to play music and have a great time. Thanks. No excuse to come this month so, other than the three reasons set out below.

Thursday June 3rd
Rhatigan Nev, from 'Ray' told me he bought a copy of our 'Big Stick' cd in a charity shop recently which adds to the myriad of ways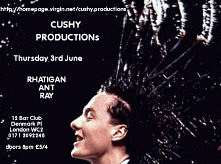 you can acquire this obscure masterpiece. A selection of songs recorded on 8track between 97-98 it features a recently revived song Requiescat that now features the mighty lip of Shane Mills aka The Bone. This version can only be heard live and/ or by getting hold of one of the several bootleg tapes there are floating around oh and of course at your local charity shop.
Ant Over the last year or so, Ant has been a regular visitor here at Cushy studios. We must have recorded ten or more of his beguiling tunes. His music is so fresh, not stylistically ground breaking or tricksy and clever, it is sensual, spiritual and thoughtful. He is also the drumming third of other Cushy favs Hefner and now, the first artist to appear on Evil World Records, Jennifer Dennitto and Darren Hayman's label. The choice of 'I hope you'll always be there' and 'Not sleeping the same way' for the single illustrates Ant's qualities perfectly, earthy and ethereal.
RAY Formerly 'Bradford and Ladies', brothers Nev and Mark Bradford team up with Mary Richards to craft atmospheric pop with shimmering guitars, violin, cello and a voice landing spectacularly on the fault line between Nick Drake and David Bowie.
"Floating on an effervescent cloud, as if magic had made them".
No excuses then.
Bookings 0171 2092248 Doors 8pm £5 or £4 with flyer