@ 12 BAR CLUB
Denmark Place, London WC2

RHATIGAN
KEITH MOSS
WOODCHUCK
MATTBACKER

Thank you to all our old friends and new ones who came to see RHATIGAN last month on the CUSHY night. We had a ball, particularly as we resurrected some of our favourite songs from the LATE DEVELOPER album, which was fun. I'd forgotten how great it is to rock out, RHATIGAN have become more genteel of late, though believe me the mad dog is always just under the surface. I'll be back in town this month and will play a few tunes solo later in the evening.

As some of you may know I've been dividing my time between London and Dublin recently and one of the singer songwriters I've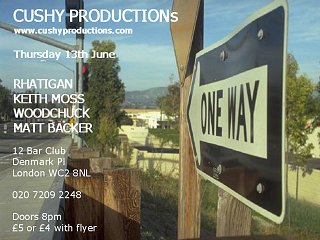 enjoyed the most on the 'RUBY SESSIONS' weekly nights in Doyles pub Dublin, is the wonderful KEITH MOSS. He is a punk poet for the new millennium. Funny and heartbreaking angry and uplifting. The legacy of John Ottway and Wreckless Eric lives on in this huge young talent. As far as I know, despite his tender years he has released three albums do date, the most recent being this years 'GLOWING GROOVES FROM THE COBWEBBED LAIR' but if you can't order one of them through your local shop visit www.cluas.com to download some MP3's, or www.peoplesound.com to buy his 1st album 'DRIZZLE DREAMS AND HEARTACHE CARTWHEELS'.
The alt/country music collective that is WOODCHUCK is a new one on me but from visiting their web site www.teamwoodchuck.com I was intrigued enough to invite them to play on a CUSHY night. Listening to their singles 'HANG ON' and 'EVERY THING COMES BACK TO YOU' they have all the required ingredients of hopeless heartbreak and hapless romanticism to convince you that they are the real deal.


MATT BACKER and I go way back, so far back in fact that I probably shouldn't mention it. Although he is far too much of a gentleman to say it, his time working with me on my first album 'To Hell With Love' which, although it was quite fun, was not necessarily the most illustrious or successful project on his impressive CV. He is a highly sought after session guitarist if you visit his web site www.mattbacker.com you can trawl through the list of his credits but he is also a great songwriter. He has a gift for writing great melodies and bittersweet lyrics, never betraying his musicality and college music roots as his debut album 'IS THAT ALL' on Warm Fuzz records evinces. Tonight he is launching his single 'EVERY THING IS NOT ENOUGH' so come down and be thoroughly entertained.

£5/£4 with flyers