@ 12 BAR CLUB
Denmark Place, London WC2
Thursday, 14th February 2002

A LADYFEST EVENT
Featuring
SPY 51
VV & HOTEL
MOONKAT
Thursday, 14th February 2002
This month we are combining CUSHY forces with the girls and guys who are setting London up with it's first LADYFEST event. Ladyfests have been taking place across America for the past two years, the first of which was organised by members of Sleater-Kinney and Le Tigre, featuring among others Cushy friend Gina Birch of Raincoats and Hangovers fame. As a taster to the main event planed for August 2002, there will be gigs and fundraising activities throughout the spring this being the first….
SPY 51 make delicious music. Formed about two years ago they have released three singles on FIERCE PANDA, which chart the band's emerging melodic ambient guitar sound, further enhanced by the recent recruitment of former Gay Dad member Charley Stone.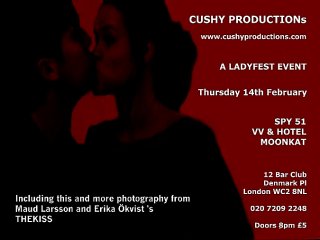 VV & HOTEL formerly 'The Sonic States of America' is a new band formed by ex members of Scarfo, Fiji and Discount. They make wonderful grungy lo-fi electronica with pop aspirations.
MOONKAT carry on the riot girl tradition with the requisite energy enthusiasm and naiveté.
You can also view digital images, video and photos from Maud Larsson and Erika Ökvist from Caravan Film's THE KISS loosely based on and inspired by - 'Klimt's Kiss'
The inaugural Ladyfest took place in Olympia, WA on the 1st to the 6th August 2000.
Ladyfest 2000 followed the Olympian tradition of festivals where people gather together to share ideas and talents, showcasing and encouraging female artistic and political talents. It was in turn a timely event. In 1999, "Spin" and "The New York Times" reported a veritable backlash against women musicians and female concert attendees.
The rapes at Woodstock 99 brought issues of violence and safety at concerts to the foreground. Since these assaults, there has been much discussion about what happened, but very little said about how to change things. Ladyfest was and is envisioned as a medium, providing tools for change - for women and men alike.
Ladyfest 2000 was a sell-out success, with over 2000 people visiting Olympia, and $30,000 raised for two local women's charities.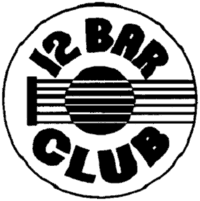 £5 or £4 with flyers
Doors 8pm