RHATIGAN
ANT
LONG GOOD LUCK

Well here we are despite our best efforts, already entrenched in the new millennium.
If you were at our Christmas bash, then you will know what a great evening we all had, despite a near disaster when the fabulous Phil (soundman) had to run off during sound check, to attend the birth of his first baby. Happily all went well and Mother, Father and Daughter are all fine. Special thanks to Justin who stepped into the breach, so to speak.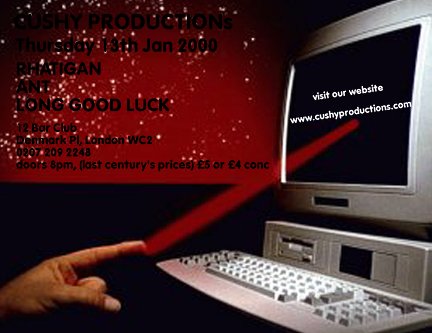 Also thanks to Michael J Sheehy, Parachute and Sport who contributed to the evening's success and our new Tenor Trombone pal Jackie, who was a huge hit, particularly with the boys.
I'm looking forward to the New Year, things have got off to a good start. Tune in to Sean Hughes on GLR 94.9 FM, this Saturday the 8th January, 'cos he has asked yours truly to do a bit of a session (should be between 1 and 2pm). Hope I can stave off this dreaded lurgy which has been trying it's damnedest to sneak up on me.
All looks good for the gig on Thursday though. Rhatigan will be there in force, as will my special guests. Ant, hmmm, one of the most 'beautiful' male singer songwriters alive today, despite the rigours of his day job as the drumming quarter of 'Hefner' and new band Long Good Luck, who when it comes to clever lyrics bemoaning the vagaries of deprecating self lust and lust, can certainly give them [sic] a run for their money!
So shake off the New Year blues, there is life after the Millennium bollix



Bookings 0171 2092248 Doors 8pm £5 or £4 with flyer