RHATIGAN
MICHAEL J SHEEHY
PARACHUTE
SPORT

Sorry this mail may be a bit late, I've been struggling with my own millennium bug, which wiped out my hard disk, so it's back to scratch.
All the more reason to have a good blow out on the 16th when we'll be having our Christmas bash. I'm really looking forward to it. Expect to see all the usual Rhatigan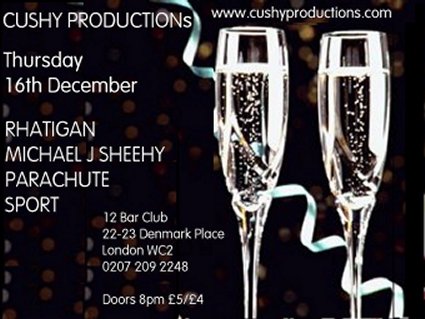 protagonists, hopefully they'll remember the songs!
It's also a chance for us to say thanks to all our supporters and the wonderful staff at the 12 Bar who make it the best live music venue in London
Oh come all ye…
Come and triumph the survival for another year not to mention millennium of RHATIGAN et al.
Come and give praise for the previously obscured vocal voluptuousness melody and wit of former Dream City Film Club front man MICHAEL J SHEEHY.
Come and rejoice the diversity and quality of Birmingham maestro's PARACHUTE.
Come and bear witness to the debut gig of brand new lounge/Beefheart influenced band SPORT
Come and party, it's Christmas….



Bookings 0171 2092248 Doors 8pm £5 or £4 with flyer