@ 12 BAR CLUB
Denmark Place, London WC2


RHATIGAN
PADDY WAN 'ASH
FIONA BRICE
Thursday 9th August 2001

Firstly this month I want to thank everyone who took part in last months sell out Cushy night. As predicted Headshoppe devotees turned out on mass resulting in the doors closing at a record 8.45pm which sadly meant the other substantial crowds who came to see El Hula and Rhatigan had to wait around for some people to leave, which given the brilliant debut performance by 'mark' and the fine atmosphere created by the Headshoppers, meant they were not inclined to go. Thanks to the souls left waiting for their patience. The moral of the story is get there early cos at Cushy we guarantee a bumper night of quality turns and this month is no exception…. www.suzannerhatigan.com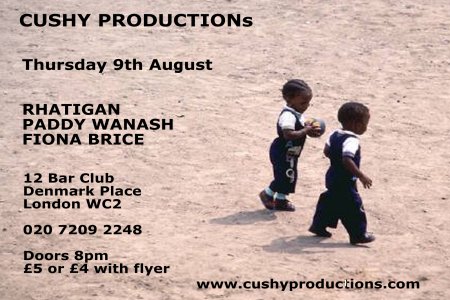 PADDY WAN 'ASH are an incendiary package of spliffing guitar riffing, mad men from North London. Main man Paddy McCarthy younger brother of and sometime guitarist for Michael J Sheehy shares the wicked charm and talent of his brother (Michael uses his mum's maiden name btw) to devastating effect with his long time friends (drummer Ian also helps Michael out live from time to time). According to one press review "they jab away at the vein of John Spencer's Blues Explosion in a crack house, with the cramps & The Pogues this is the house band of the council estate from hell, but that is what makes them so edgy and enthralling!" They have been quiet of late but I doubt they will be quiet on the 9th so lock up your daughters and your mothers for that matter. www.paddywanash.com
FIONA BRICE is best known in London music circles as a talented and much sought after violinist. She can be heard playing with Tram, Michael J Sheehy (that guy again) Rhatigan and Menlo Park among others. Tonight she will be playing her own piano led songs, which despite her classic piano style and her undeniable prettiness belie a tough lyrical centre. She's no pushover. Hopefully she will play her violin on a couple of Rhatigan tunes later in the evening.
If you can't make it to the show you can watch live online or look at some recent gigs on the archive...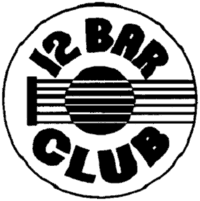 £5 or £4 with flyers
Doors 8pm
SUZANNE RHATIGAN will be doing a solo gig at THE RUBY SESSIONS upstairs at Doyles Pub College St Dublin on TUESDAY 14th AUGUST. Show starts 9pm £3 goes to the Simon Community Charity.