CUSHY PRODUCTIONs at the 12 BAR CLUB
Denmark Place, London WC2



Thursday, 11th January 2001

RHATIGAN
TRAM
JOHN WHIFFIN
THE PEACHES

Happy New Year

I'm writing this two days post Christmas still full of food and drink from the Christmas parties but also full of anticipation for the coming year.

First congratulations to Rhatigan drummer Paul and his wife Saff on the well over due birth of their daughter, weighing in at a hearty 9lbs 12oz, I hope they didn't mix her up the turkey over the festivities. They were both in attendance at our Cushy Christmas party, I reckon it was my home-made mince pies which finally got things going. Thanks to every one who attended it was fine.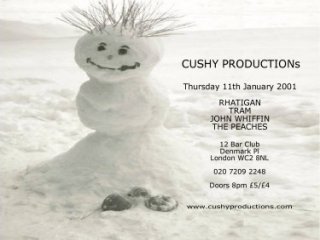 I had hoped to start the year with the RHATIGAN band, but with commitments for the year piling up already it'll be me and my new harmonicas Santa brought me. Not for the faint hearted!
www.suzannerhatigan.com
I'm excited about the new year, not least as we are starting our Cushy gigs with one of my favourite bands. TRAM's subtle and compelling brand of folk/pop has been absent from the live scene for a while now, they have been recording their follow up to 'Heavy Black Frame' with their debut for Setanta Records 'Most frequently asked questions' out on February 5th.

JOHN WHIFFIN is a fine singer songwriter in the traditional and assured way of John Martyn and Nick Harper.
THE PEACHES are a south London Soul/Pop band who's demo sparkles like a frosty new year morning.

£5 or £4 with flyers
Doors 8pm